Fårösunds Semesterby
Address

: Strandvägen 80, 624 62 Fårösund
show map
Location: North Gotland & Fårö
Cabins | Nice vacation village in Fårösund. Well equipped cottages situated by the ocean. Playground and beach on the area. Perfect for families. Wifi is for free for all guests.
There are 17 cosy cottages in different sizes and almost everyone with beautiful ocean view. In the area you´ll find a nice playground for the kids, big and spectacular sauna by the ocean and a beach. Peacefull and beautiful environment with big oaks and a lot of birds.

A lot of space for the kids to run around and play. Only 2 km to the grocery store, ICA-supermarket and other service in the village. Only 1000m to a nice restaurant. If You want to visit the amazing island of Fårö it´s only about 7 minutes away. (The ferry takes 7minutes and doesn´t cost anything)

Cleaning is not included in the price but ca nbe added for an extra charge.

Welcome!
Compare "Fårösunds Semesterby" with similar alternatives
Sudersands Camping is located on beautiful Fårö and is next door to Sudersands Holiday Village located nearby. We are one of the largest camping on Gotland and is situated only 100 meters from the wonderful sandy beach Sudersand!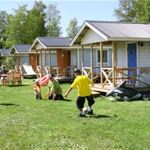 Welcome to Strandskogens Camping. Strandskogen family campsite is situated in Sudersand, 18 km from Broa ferry terminal.
Sudersands Hotel is located within a walking distance to the beach of Sudersand is our newly built hotel. This is the first and only hotel at Fårö and Sudersand.