Burgsvikens Strandby & camping
Address

: Fide Anderse 222 Burgsvik
show map
Location: Gotland
Camping | Burgsvik is a popular destination on the countryside.

One hour drive south from Visby, 7 km north of Burgsvik, you'll find this new campsite in Fidenäs!
The camping is located only approximately 400 m from the bay with a fantastic view of Burgsviken. The nearest beach is located at Käldhagen about 4 km south towards Burgsvik, a long and well-maintained beach suitable for all ages.
Burgsvik offers a lot of restaurants which are among the most popular on the island. Burgsvik offers a relaxed atmosphere but still with things to do and



The area has large lawn areas where there is room for various activities. The large common plot is bordered by the sea. A playground is available on site. Service house with toilet, shower and kitchen available.

The resort is surrounded by lots of greenery and a calm environment. From the coast line you are able to watch fantastic sunsets with a nice view over the bay.

Check in at 15:00 Check out at 12:00

Wifi is available.

The camping is open from week 25 to 34, staff will be on site between week 26-32.
Compare "Burgsvikens Strandby & camping" with similar alternatives
Burgsvik is popular destination on the countryside. An hour's drive south from Visby about 7 km north of Burgsvik you will find this new facility.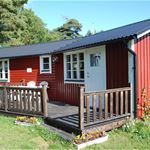 The cottages have been newly renovated, bright and cozy. The cottages are located on the site of the family hotel along the road that leads from the main street down to the beach. There is a lawn around the cottages with large oak trees and birches, nice and shady. For the children there is a playground with a slide, sand box and swings. The distance to the beach is about 250 meters och to the food store Konsum 150 meters. Parking is close to the cottages. The place is in the centre of Ljugarn and perfect for families with children. The cottages are equipped for self-catering.
Ljugarns husvagnscamping offers 50 caravan spaces with electrical hook-ups, beautifully situated along the beach. The spaces are close to the reception area and service building. The service building has facilities for laundry and washing-up, as well as modern showers and toilets.