Ljugarns Camping
Address

: Strandvägen 51, 62365 Ljugarn
show map
Location: South Gotland
Camping | Ljugarns husvagnscamping offers 50 caravan spaces with electrical hook-ups, beautifully situated along the beach. The spaces are close to the reception area and service building. The service building has facilities for laundry and washing-up, as well as modern showers and toilets.
Ljugarns tältcamping lets you camp in tents right on the beach, within easy walking distance of the reception and service building. Choose whether you want to wake up with the morning sun on the shore, or in the quiet shelter of the wooded area.
Facilities and services
General facilities

Leisure facilities
Compare "Ljugarns Camping" with similar alternatives
Ljugarns Semesterby & Camping (Ljugarn's Holiday Village and Camping Site) is on Gotland's east coast. It is close to bathing beaches, activities and restaurants. In recent years, the holiday village has been thoroughly modernised. Situated next to a child-friendly sandy beach in picturesque Ljugarn, the holiday village's cabins are in a forest area that offers a certain degree of seclusion.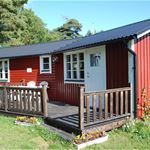 The cottages have been newly renovated, bright and cozy. The cottages are located on the site of the family hotel along the road that leads from the main street down to the beach. There is a lawn around the cottages with large oak trees and birches, nice and shady. For the children there is a playground with a slide, sand box and swings. The distance to the beach is about 250 meters och to the food store Konsum 150 meters. Parking is close to the cottages. The place is in the centre of Ljugarn and perfect for families with children. The cottages are equipped for self-catering.
Åminne is the gotlandish name for a river estuary. Where The Gothem River winds it's way out to the sea south of Slite on the north east of the island, there is a natural oasis. Meadows surrounded by woods, stretch out towards generous sandy beaches.